Winkfield horse deaths crash prompts warning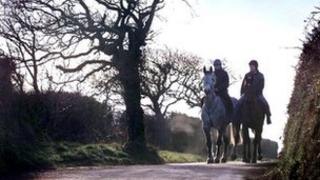 Two horses were killed by a car in Berkshire at the weekend prompting a warning to motorists to take more care when driving near riders on the roads.
It happened in Hatchet Lane in Winkfield, near Bracknell, on Saturday. Of the three horses hit, two had to be put down by a vet at the scene.
One rider, a young girl, was airlifted to hospital with facial injuries and a woman suffered a fractured arm.
Police arrested a man, 41, on suspicion of drink driving.
He was driving a black Audi which hit the three horses and riders in the lane shortly before 15:00 GMT, Thames Valley Police said.
Another young girl was treated a the scene by paramedics.
The driver was also held on suspicion of driving without due care and attention and bailed until 22 January.
Sara Gallagher, road safety officer for Wokingham and Bearwood Riding Club, said riders and horses were constantly risking their lives on the roads.
On the same day of the accident, she had a "near miss" while riding in Arborfield.
'Verbal abuse common'
"A motorist came past me and the side of the car hit my right stirrup," she said.
"Fortunately neither I, nor my horse, were injured. I was wearing full high viz clothing and road conditions were clear."
She added: "I wish I could say that these are isolated incidents.
"However the truth is that every time we go out on the road we risk serious injury or death due to negligent, dangerous or just ill-informed drivers who do not know how to safely drive past horses on the road.
"Deliberate harassment such as verbal abuse and sounding of horns is also a regular occurrence.
"None of us want to go out on the roads, however bridleways and other safe rights of way are extremely limited, and often fragmented, meaning that to get from one to the other we must travel on roads as well."
Ms Gallagher is campaigning to raise awareness among motorists to take greater care when passing horses and also wants riders to sign up to road safety training run by the British Horse Society.
She said putting pressure on councils to make more bridleways available was also part of her campaign.