Christmas lights stolen from Berkshire nursery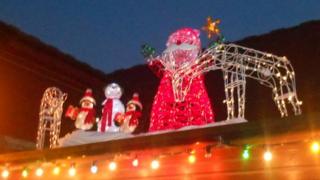 A Berkshire children's nursery has had its display of Christmas lights stolen by thieves.
The display at Jubilee Day Nursery in Padworth Common included 30m (98ft) of lights as well as life-sized reindeer, snowmen and a Father Christmas.
It had taken staff at the Rectory Road nursery eight years to build up.
Police investigating the theft confirmed a set of metal gates were removed to gain entry sometime between Sunday evening and Monday morning.
Nursery manager Lesley Thompson said the theft was disheartening.
She said: "It's really sad for the children more than anything else.
"We were planning a big event for later this week to show off the display and join in other celebrations in the area."
Parents have already extended a helping hand by donating new lights, while a local business has offered a £200 donation.
Thames Valley Police has appealed for any witnesses to contact them.