Newbury exhibition commemorates Ugandan Asian settlement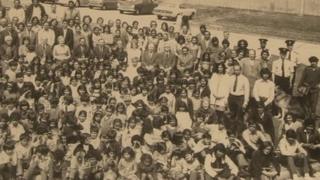 An exhibition has opened commemorating 40 years since Asians expelled from Uganda came to live in Berkshire.
In 1972 leader Idi Amin expelled the entire Asian population of the country, giving them 90 days to leave the country.
The exhibition - Flight to Greenham - looks at the impact they had on the community after many settled in Newbury.
Many were housed at RAF Greenham Common.
The exhibition's organiser Pragna Hay and her family had to leave their home and shop business behind.
She said: "It was quite a drastic change and it took a while to adjust to life here.
"I remember that my younger brother and I used to go to school and we got branded as nuisances because as vegetarians school dinners looked really alien to us.
"I remember the headmaster would phone my mother up and say, 'you know they're quite a nuisance because they're not eating the school dinners that we're providing here.'"
The exhibition, at New Greenham Arts Centre, runs until 12 December.