Beenham wood mulch fire 'could burn for weeks'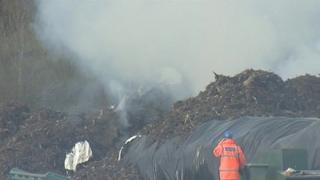 A fire at a compost-making plant in Berkshire could burn for several weeks, the fire service has said.
The fire at the Grundon-owned site in Beenham broke out in up to 1,000 tonnes of fermenting wood mulch a week ago.
Royal Berkshire Fire and Rescue Service said the fire was being monitored and allowed to burn out naturally as it posed no threat.
Station manager Paul Maynard said: "The piles are extremely big - it could take a couple of weeks to burn."
They cover an area of the size of a football pitch, he said.
The service made several attempts to put out the blaze but was hampered by winds which had exacerbated the smoke.
"It is a nuisance and we understand that, but the guidance is that it is not a danger to health," Mr Maynard added.
He said any attempt to extinguish the fire would involve a "huge resource".
No homes or buildings are at risk from the fire, but smoke could drift across local properties.
Health fears
The fire service said the smoke can be an irritant so affected residents should stay indoors with windows and doors shut.
Local resident Jeff Vile said: "The smell alone was pretty bad. We're concerned about the health issues as the smoke is continuous.
"There's got to be some way of putting that fire out."
The fire involves wood chips, tree cuttings and garden waste which had been destined to be turned into compost.
A statement from Grundon stressed that the compost facility is not owned or operated by them.
It said efforts were continuing to contact the operators Good2Grow compost.
Grundon director Andrew Short said: "Following guidance and advice from the emergency services, we have been creating fire breaks to try to separate the material currently alight from the other green waste materials on the site.
"We will continue to monitor the site and offer the fire brigade whatever support we can in terms of both equipment and manpower, until everything is fully extinguished."