Olympic items to be sold on eBay by Berkshire council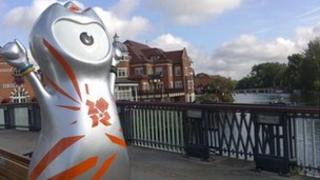 Two large mascots are among the scores of Olympic items being put up for sale on eBay by a Berkshire council.
The Royal Borough of Windsor & Maidenhead is placing more than 300 lots on the auction website to raise money for its Mayor's Benevolent Fund.
As well as bunting and flags, other souvenirs include two Wenlock figures, which have a £250 starting price.
The items, many of which were used at the Eton Dorney rowing events, are expected to go on sale on Thursday.
Simon Dudley, the authority's lead member for the 2012 Games, said: "We have experienced one of the most memorable years in the borough's history and we now have the happy task of finding good homes for all the items we were provided with to decorate roads, parks and car parks leading up to and during games time.
"While many of the materials have seen games service, we also have banners and flags which are still in their original wrappings so there will be something on eBay to suit all pockets.
"We have already seen a great deal of interest in the Wenlock mascots and we are hopeful they will attract healthy bidding when the shutters go up on the eBay sale on Thursday."
Mayor Colin Rayner said: "The benevolent fund was set up many years ago specifically to help alleviate poverty in the borough and this will be a very welcome seasonal boost.
"Winters can be harsh times for our vulnerable residents and the fund is used to support people and families in genuine need and help make things a little easier."
The auctions are due to end on 16 December.