Wellington College girls to join field gun run team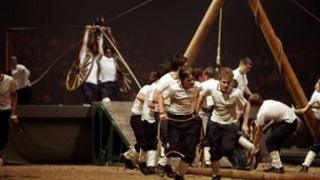 Girls are to take part in the field gun run at the British Military Tournament for the first time in its history.
Chiara Fumagalli, 17, Fabia Maramotti, 17, and Abby Pape, 13, from Wellington College in Berkshire, are to be "gun runners" at Earl's Court this weekend.
They are part of the 45-strong teenage crew that will dismantle the huge guns, run with them over large obstacles, then reassemble and fire them.
Chiara said she was honoured and excited to be taking part.
'Man's task'
She added: "[The team] would be disappointed if someone let them down and the fact that I'm a girl obviously emphasises that because I'm not as strong as everyone else.
"The training is extremely tough and it's a dangerous thing to be doing.
"If you make a mistake other people's lives can depend on it; I've known some people who have had to go to hospital."
The team will use two guns, named Terrible, and Powerful, at the event in front of an audience of about 17,000.
Christopher Joll, the creative director of the tournament, praised the girls for having the "guts" to take on the challenge.
He said: "The audiences at the British Military Tournament are already in awe of the courage and determination of Wellington College schoolboys to stage the physically challenging field gun competition.
"That schoolboys have, quite literally, taken on and delivered a man's task is impressive.
"That schoolgirls are involved this year is a testament to their guts and the school's vision."
Ian Frayne, the teacher in charge of the team, said: "It's an historic moment and an amazing one, as the field gun run was a last all-male bastion and an activity which has been called the toughest sport in the world."