Baby joy for Catherine Middleton's home village of Bucklebury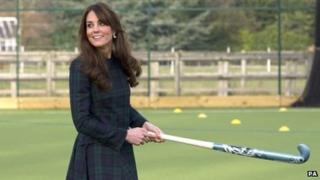 The home village of the Duchess of Cambridge has quickly become used to its royal connection, so the "wonderful news" that she was expecting a baby spread fast and was greeted with joy.
Her wedding to Prince William sparked unprecedented interest in Bucklebury last year and locals are already gearing up to celebrate her first child.
It was only last Friday when Catherine visited her old school of St Andrew's in Pangbourne, Berkshire, where she studied from 1986 until 1995.
As she participated in an impromptu game of hockey little did anyone know she was pregnant.
Headmaster Dr David Livingstone said: "All the pupils and staff at St Andrew's are absolutely thrilled by this news.
"It was a very special day for us when she visited.
'Truly delighted'
"She enjoyed playing hockey with the boys and girls after opening the new [artificial turf] pitch and joining in our celebrations for St Andrew's Day."
The eldest of three children the duchess was born at the Royal Berkshire Hospital in Reading and raised in a modern five-bedroom detached house in Chapel Row in the parish of Bucklebury.
BBC News broke the news to Councillor Graham Pask, who represents Bucklebury on West Berkshire council.
"I hadn't heard anything but I'm truly delighted. That's wonderful news, you've made my evening," he said.
He said the news was likely to turn the media's attention once again on to the village.
The huge interest had caused some tensions ahead of the wedding but Mr Pask said most locals did not have a problem with it.
Duck races
He added: "If a few reporters rock up it's fine by me, it puts us on the map a bit.
"Life still goes on. She will always be a Bucklebury lass as far as we are concerned."
He said he was certain the village would mark the birth with a celebration similar to the royal wedding where hundreds of residents gathered to watch the ceremony.
Festivities, including duck races and a street party were also organised.
Set in the Berkshire countryside, Bucklebury is located about five miles north-east of Newbury and has a population of about 2,000 people.
The village boasts a butcher's shop, pub, doctor's surgery and tea shop while Upper Bucklebury includes a primary school.
Glynis Snow has been the landlady of the Six Bells pub in the nearby village of Beenham for nine years.
She said: "It's excellent, it's a surprise, lovely.
"I have to be honest and say she doesn't use this pub but her parents live just up the road.
"We do get a little bit of people coming to the area because of the connection.
"I'm just very happy for her and pleasantly surprised."