Jimmy Higham's Isn't She Lovely makes iTunes chart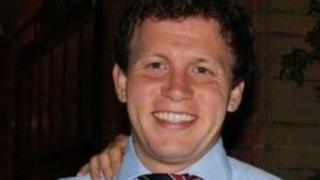 A Berkshire teaching assistant who died of cancer at 26 has a single in the iTunes Top 40.
Jimmy Higham's cover of Stevie Wonder's Isn't She Lovely was even outselling singles by One Direction, Robbie Williams and Rihanna in the chart.
His father Colin said: "We were very surprised. But then given the number of lives he touched, it's not surprising."
Mr Higham, originally from Lancashire, was a PE teaching assistant at the independent school in Crowthorne.
He was diagnosed with cancer in November 2010 when he was 25 and died shortly before Christmas 2011.
'Hidden talent'
Isn't She Lovely was recorded in a school studio in March 2009 with his colleague Jon Walmsley on guitar.
He emailed it to a couple of friends, including Robert Firth, who went to Durham University with him.
Mr Firth said: "I didn't know he could actually sing. He would never brag about it, it was a hidden talent.
"I tried to encourage him to go on The X Factor, teased him about it, and then more or less forgot about it."
Another university friend, Johnny Slade, unearthed the track and arranged the iTunes release in November, where it became a Top 40 hit on the UK download chart.
But Mr Higham said his son did not court the limelight.
He added: "His entire image was that of a rugby player. I didn't believe it was him singing, especially with the falsetto voice on it.
"I've been watching it on iTunes and when he shot past Marvin Gaye on the RnB chart I didn't know what to think.
"Jimmy'd be stunned if he knew he'd leap-frogged Marvin Gaye."
'Influential person'
Jimmy Higham was described as "an instant hit at Wellington with students and staff".
Archie Presley, 18, said: "He's one of the most influential people I had known at the school.
"Everyone looked up to him, and during down times at the school he would definitely lift the spirits of everyone.
"I absolutely love the song, I'd place it above the original."
Robin Dyer, deputy head of Wellington College, said: "The reaction of people has been astonishing.
"To hear his voice singing such a beautiful song, it was very emotional, and it still is."
He described the single's success as "extraordinary".
Proceeds of the single are going to the Jimmy Higham Bursary Fund.