Queen's Diamond Jubilee: Mayor's copse in Newbury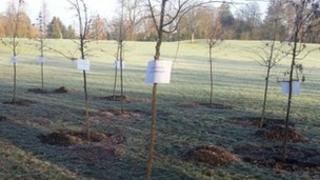 A copse of oak trees has been planted in Newbury by former mayors, to mark the Queen's Diamond Jubilee.
A total of 25 trees were planted in Goldwell Park by every mayor of the town since 1965, as well as the present mayor Arthur Johnson.
Organiser Garry Poulson approached them to develop the copse, as a tribute from the mayors to the Queen.
He said Pin Oaks were chosen as they would be "long lived and provide great colour in both spring and autumn."