Berkshire incinerator firm Grundon abandons plans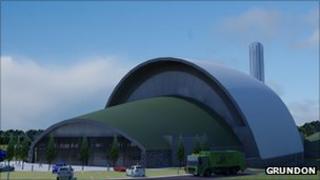 Campaigners against a plan to build an incinerator beside the M4 in Berkshire said the decision by the firm behind it to withdraw was a "people's victory".
Grundon's plans for the facility on the Old Kiln Quarry site at Chieveley - an Area of Outstanding Natural Beauty - were refused by the council in April.
The firm had been considering appealing but now says it will not pursue its plans for West Berkshire.
Simon Connington said campaigners were delighted with the news.
Andrew Short, director of estates for Grundon, said the firm would now invest in other parts of the UK and abroad.
'Missed opportunity'
He said: "It does not make sense for us to spend significant amounts of money on planning and legal fees when these can be better spent securing consents elsewhere.
"It is hugely disappointing as this really is a missed opportunity for West Berkshire - not only in reducing its dependence on landfill and generating enough power for 30,000 homes, but also financially.
"Our scheme would have generated up to £1m a year for the council in business rates, which is quite considerable when you think it could have gone some way to off setting West Berkshire's £9m of austerity measures and cuts."
Mr Connington, of the West Berkshire Against Grundon Incinerator (WBAGI) group, said: "We truly believe that this illustrates just what is possible when a community works together.
"WBAGI has always stated that we were prepared to go all the way to a public inquiry and judicial review if necessary.
"The building of a waste incinerator on an AONB was always an inappropriate development in WBAGI's view, and we have done everything within our power to ensure its protection for this and future generations.
"This is definitely a people's victory.''