Newbury house deaths a 'tragic incident'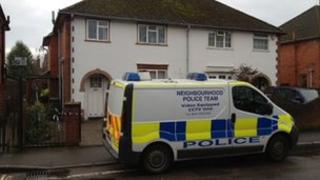 An elderly woman found dead at a house in Berkshire where another man was found fatally injured may have suffered a heart problem, police have said.
Police said the deaths of the woman, 89, and the man, 94, appeared to have been a "tragic incident".
They were found at a house in Berkeley Road, Newbury, on Sunday.
The man's injuries were consistent with a heavy fall, according to the preliminary findings of a post-mortem examination.
Thames Valley Police said tests indicated that the woman had suffered a "cardiac-related medical episode" and had some bruising consistent with a fall.
Forensic investigation
The man, who died in hospital, had suffered injuries consistent with a heavy fall along with complications arising from him lying down for many hours.
Neither of the bodies had any defensive injuries or injuries consistent with an assault, police said.
Det Ch Insp Gill Wootton, of Thames Valley Police, said: "While the preliminary findings of the post-mortems into these two deaths appear to indicate a tragic incident, we are continuing our detailed forensic investigation at the scene and investigative enquiries in the area.
"We are acting on behalf of the family and the coroner to fully determine the circumstances around these deaths and also to preclude any third party involvement."
The final post-mortem report will be completed when toxicology results are known.
Police said there was no sign of forced entry to the property.