Missing Catherine Nee's family in plea for her return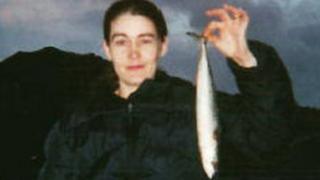 The mother of a Berkshire woman who went missing 12 years ago has said she has a family "waiting and wishing" for her to come home.
Last week, police issued an appeal for the whereabouts of Catherine Nee, also known as Kathy, who was last seen in Ilfracombe, Devon, in 2000.
Her mother, Nellie Nee, 71, said she did not know why "a difference of opinion" within the family led her daughter to leave home in Dee Park, Reading, never to return.
A series of brief letters written 10 years ago are the last contact she had with her daughter.
Mrs Nee approached a local newspaper in Newbury where her daughter once lived and a television programme about missing people in a bid to publicise her disappearance, but neither led to a breakthrough.
Earlier this year, she and the rest of the family, including Catherine Nee's sister, brother, nieces and nephew formally reported her missing to police.
"I'm not getting any younger. I want her home and so do the rest of the family," said Mrs Nee.
'Pray every night'
"I think about her all the time. She is always in my head and always will be.
"I pray every night that one day she will come home. Her grandchildren certainly want to meet her and I would love her to meet them.
"I would throw my arms around her if she came home tomorrow."
For Thames Valley Police, the case is an unusual one to handle. Det Insp Kev Mahon, the man leading the investigation, says he remains "open minded".
He said: "Our initial inquiries have failed to show any trace of Catherine since 2002.
"We know she was living with a partner in Devon when she last made contact and clearly that will be a strong line of inquiry moving forward.
"What we're trying to do is form a picture of her movements since then. Her life was quite unstable and chaotic and she had various part-time jobs.
"It's largely unclear why she moved to the South West, but we know it was a part of the world the family used to go on holiday when she was younger.
"We also have to take into account that Catherine might not want to be found.
"What we're asking is for her to make contact with either ourselves or the family and we can at least end the years of uncertainty."