Woman and child rescued in Berkshire flood waters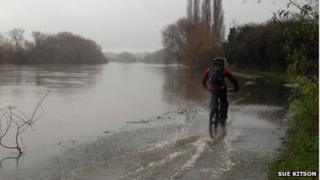 A woman and her three-year-old child have been rescued from their car in Berkshire after it became stuck in flood waters.
Fire and rescue crews were called to Sandford Lane in Woodley earlier as homes along the River Thames were placed on flood warning.
A water rescue team along with crews from three Reading fire stations attended the incident.
The Environment Agency has warned water levels are continuing to rise.
Firefighters believe the mother attempted to drive through the flood waters, but quickly realised they were deeper than expected.
'Frightening place'
Caversham Road station commander Jess James said: "About halfway through her attempt to drive down Sandford Lane, she raised the alarm and called 999.
"She was quite frightened as the water levels rose quite quickly.
"If you are in your car and it suddenly gets stuck, it can be quite a frightening place to be.
"Our advice is that people do not attempt to drive through floods. Even if they have to take an alternative route, it is much safer to do so, rather than risk losing their car or even their life."
Homes were expected to flood in areas close to the River Thames. Flood warnings have been issued for Mapledurham, Reading and Caversham.
Shiplake to Bolney Court near Henley, including Lower Shiplake and Wargrave, has also been issued with a warning.
West Berkshire Council said it was on standby for flooding, particularly at Purley where properties have been affected by flooding in recent years.
Along the River Loddon, a flood warning has also been issued for Twyford, Charvil and Wargrave.
There are currently 17 flood warnings in place for the South East, with more than 200 across England.