Affluent Maidenhead's high street in decline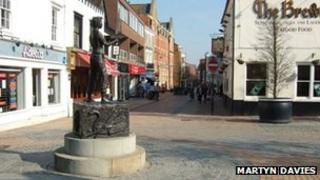 In an affluent Berkshire commuter town where the average house price is nearly £500,000, you might expect to find a thriving high street.
But Maidenhead's town centre has the second highest proportion of vacant shops in the county, according to the Local Data Company.
Around one in six premises there lay empty, up from one in eight in 2011, according to the data.
Although Bracknell has the highest percentage of empty shops in Berkshire - nearly one in four are empty - many are vacant because they are awaiting demolition ahead of a major regeneration project.
'Market-led'
David Burbage, leader of the Royal Borough of Windsor and Maidenhead council, said: "Maidenhead isn't particularly unique - we've had a rise in the latest figures but we are by no means alone.
"We have increasingly been trying to put things in the town centre - nice trees, flowers, a fountain or two - just to make it a nice place to come to, but it's a market-led activity, predominantly."
Andy Bonner, who runs DNA Cycles, said: "At the moment it's very quiet - too many empty shops, too many cheap shops, short leases, too high rents, too high business rates.
"When we first opened up it was a very busy high street - lots of footfall. Nowadays, it's not exactly flying past the door. It's very, very quiet."
Shaf Patel, who runs Hard Edge skate shop, said: "We've been here about 20 years. It's been quite difficult as most property in Maidenhead is expensive and to rent a property in Maidenhead is ridiculous.
Crossrail coming
"There's not much variety for customers and that sways them to bigger towns near to us like High Wycombe or Reading or Windsor."
It is hoped the Crossrail scheme, which will link Maidenhead with east and central London, will revive the town's fortunes. However, it is not expected to open until 2018.
Plans for a retail scheme, led by ING, are also due to be submitted to the council in the coming weeks but, even if approved, they will take time to come to fruition.
Retail expert Steve Musson, a lecturer at the University of Reading, said: "Crossrail could make a big difference to Maidenhead.
"It's small town centres like Maidenhead that provide a service for people who can't get into places like Basingstoke or who just want to pop out for one or two things. Places like Maidenhead are really important and need as much support as possible."