Tributes to Fat Duck chefs after Hong Kong taxi crash deaths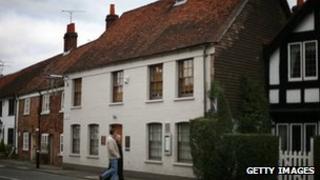 Tributes have been paid to two chefs from Heston Blumenthal's restaurant The Fat Duck after their deaths in a crash in Hong Kong.
Jorge Ivan Arango Herrera, 34, Carl Magnus Lindgren, 30 and the driver of their taxi were killed on Monday in a collision with a bus.
Hong Kong media reported the bus driver fainted before the Chai Wan Road crash.
Chef Raymond Blanc posted on Twitter: "My heart and my thoughts are with the families of the two young chefs."
Olly Rouse, head chef at Coworth Park, Ascot, also used the social networking site to pay tribute to the pair.
He tweeted: "Thoughts go out to all friends and family... Such a great loss of talented Fat Duck chefs."
'Lovely chap'
Christian Cotton, personnel manager at Terre à Terre restaurant in Brighton, said Jorge had worked there before he had left to go to the Fat Duck in 2006.
He said: "He started as a commis chef before he became chef de partie.
"I saw him about a year-and-a-half ago when he was visiting Brighton with his young child.
"We are really upset, a lot of us have been here quite a few years and knew him personally, we worked together and played together.
"He was an absolutely lovely chap, very gentle, lovely chef to work with. We were really pleased for him to get the job at the Fat Duck."
A spokesperson for Berkshire restaurant The Fat Duck, which opened in 1995, said the chefs had been visiting Hong Kong with Heston Blumenthal for a private event.
The two chefs were guests at the Mandarin Oriental.
A spokesperson said: "We are deeply saddened by this tragic event and our hearts and prayers are with their families and loved ones."