Fat Duck chefs killed in Hong Kong car accident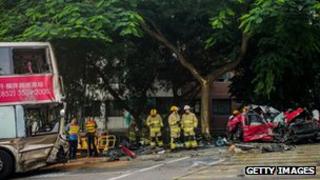 Two chefs from Heston Blumenthal's restaurant The Fat Duck have been killed along with their taxi driver in a collision with a bus in Hong Kong.
The pair have been named by Hong Kong media as Jorge Ivan Arango Herrera, 34, and Carl Magnus Lindgren, 30.
They were travelling in the Chai Wan district when a double decker bus hit their taxi.
The Michelin-starred restaurant in Bray, Berkshire, confirmed both men were senior members of staff.
The third person killed in the collision was the 53-year-old taxi driver Wong Kim-chung.
Hong Kong Police Force said the bus driver, 57, had been arrested. He was held on suspicion of causing death by dangerous driving before being released on bail.
'Lost control'
A spokesperson for The Fat Duck said: "We can confirm two members of our team were tragically killed in a car accident. They were both senior members and great and dear friends.
"Two uniquely talented young chefs that were loved by everyone who worked with them. They will be sadly and deeply missed."
The crash happened on the Chai Wan Road at about 11:40 HKT on Monday.
Police said a bus hit two cars before crossing on to the opposite side of the road, crashing into a taxi and another bus that had both been travelling uphill.
Hong Kong Police said a total of 56 people were injured with the youngest being seven months and the oldest, 90.
The driver and passengers in the taxi were released from the wreckage by firefighters and taken to Pamela Youde Nethersole Eastern Hospital where they were pronounced dead.
The BBC's Hong Kong correspondent Juliana Liu said: "It appears the driver of a double decker bus lost control and hit several other vehicles and another double decker bus.
"In the process, it trapped the taxi the men were passengers in between the buses.
"There will be a lengthy investigation and the Hong Kong Police Department are already calling for witnesses to come forward."
The Foreign and Commonwealth Office confirmed that it was providing consular assistance in relation to the incident on Monday.
Mr Blumenthal was in Hong Kong at the time of the accident and was pictured on local television visiting the mortuary where the men's bodies had been taken.
He opened The Fat Duck restaurant in 1995 and in 2004 it was awarded three Michelin stars.