Bracknell underpass trial: Girlfriend 'murdered with pliers'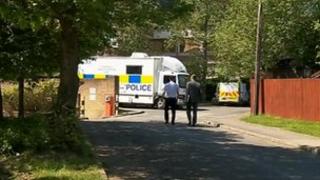 A boyfriend stabbed his partner with a kitchen knife before beating her to death with a pair of tin snips - similar to pliers - a court has heard.
Muhammed Shafi, 28, of Bracknell, Berkshire, denies murdering or intending to seriously injure mother-of-one Tuanjai Sprengel, 43.
But he admits causing her death, Reading Crown Court has been told.
Ms Sprengel was found by passers-by in the subway in Bracknell, Berkshire, on the morning of 27 May.
The court heard the couple began a relationship after meeting in 2011 and on New Year's Eve married in an Islamic ceremony.
They attempted to register their marriage with Southwark Council before Pakistani-born Mr Shafi's student visa expired.
But they were delayed by documentation problems relating to Ms Sprengel's earlier divorce, the jury heard.
Mr Shafi was granted an extension on the grounds of the couple's serious relationship.
'£1,000 on roulette'
Ms Sprengel had told friends and family that the pair loved each other.
Her cousin Jurairat Buncherd became concerned that it was a marriage of convenience to allow Mr Shafi to remain in the country, jurors heard.
On the night of her death, Ms Sprengel confided to a woman at a betting shop in Bracknell that Mr Shafi was jealous and controlling and stopped her from working, it is alleged.
Mr Shafi and Ms Sprengel were estimated to have lost £1,000 on roulette machines before they were captured on CCTV walking into the subway - Mr Shafi was seen returning without her.
Prosecutor Ian Blake said: "He stabbed her in the neck with a kitchen knife, but this was not the injury that led to her death.
"The fatal injuries were caused when the defendant battered her on the back of the head with tin snips - which are similar to a long pair of pliers."
The knife and the tin snips were found the following day in bushes near to the couple's home, along with clothing which Mr Shafi had allegedly asked friends to stash for him.
The jury heard how he arrived at a friend's home and told him, "I've done a very bad thing" before later confessing that he had "hit or killed his wife".
The trial continues.