Royal Berkshire Hospital fastest for heart attack treatment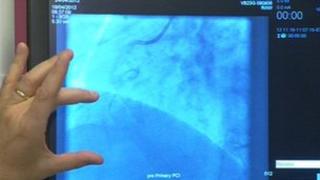 A Berkshire hospital has been rated the fastest for treating heart attack patients.
Specialists at the Royal Berkshire Hospital see more patients than any other in England, Wales or Northern Ireland within two hours.
The time is seen as a critical window to increase a patient's chances of survival and avoid serious damage.
Figures from the Department of Health show 90% of patients at the 24/7 centre in Reading are treated in that time.
The department's report revealed the hospital regularly delivers primary angioplasty treatment where a balloon is fitted to reopen a patient's arteries within 120 minutes of a patient calling for help.
Consultant cardiologist Dr William Orr explained why speed can save lives.
'Emergency procedure'
"How quickly you can reopen a person's arteries after a heart attack is a very good indicator of how well they will recover," he said.
"If you can do that within two hours, you get maximum benefit for the patient. You keep their chances of dying or being seriously disabled to an absolute minimum."
This year's report, which covers from April last year to March, has looked at the "call to balloon" time of hospital emergency centres for the first time ever.
Dr Orr added: "The national average is 62%, so at 90% we are doing really well.
"We do see a lot of patients, but in total we probably only treat about 500 heart attacks a year.
"Not all of them require an emergency procedure, some heart attacks are more subtle and aren't apparent initially. Those patients will have a procedure within two or three days of being admitted.
"About 200 patients a year are being treated with an acute heart attack."
The hospital also pointed to an effective partnership with South Central Ambulance Service as a key to their success.