Thatcham's Christmas display to feature solar lights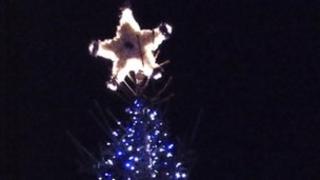 A Berkshire town is planning a more environmentally-friendly Christmas this year - running some of its festive lights on solar power.
Thatcham Town Council has taken the decision in a bid to reduce its electricity consumption by 50%.
From 7 December, some trees in the town will be lit up by solar-powered lights on timers. They will store up energy from the sun during the day.
The town's mayor, John Boyd, said the move will save £3,000.
He said: "We're satisfied with what we have seen from tests so far as even on a dark winter's day, the lights will be powered sufficiently to work really well.
"The contractors are already busy putting up the brackets for the lights and they should be in place in a few days time."