RecycleBank points scheme joined by more Berkshire councils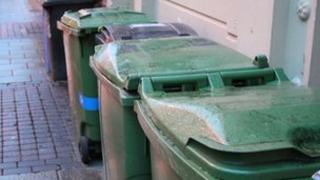 More councils across Berkshire are using a points-based recycling scheme which rewards eco-friendly residents.
RecycleBank started in Windsor and Maidenhead in June 2010 following a successful pilot.
Chips in residents' bins calculate the weight of waste, with the scheme paying out up to £135 a year in vouchers.
Since RecycleBank began, Royal Borough of Windsor and Maidenhead Council says it has saved more than £500,000 and increased recycling rates to 50%.
A similar scheme has been running in Wokingham since April, where residents inform the borough council online how much they have recycled.
Bracknell Forest Council has recently agreed to start a similar scheme of its own but has yet to choose its preferred operator.
Councillor Phil Bicknell from Royal Borough of Windsor and Maidenhead Council hailed RecycleBank as "a success story".
He said: "Before the scheme was introduced, 42,000 tonnes of waste in the borough was going to landfill a year. That figure is now 33,000 tonnes a year."
Lambeth Borough Council in London and Halton Borough Council in Merseyside also use the RecycleBank scheme.