Slough 'sham marriage' halted at register office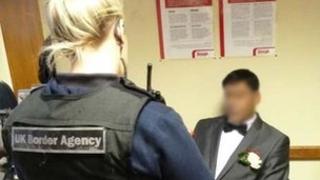 Border Agency officers burst in on a suspected sham marriage between a couple in Slough.
A 40-year-old Pakistani national who had overstayed his visa was arrested at Slough Register Office on Monday. A Polish woman, aged 33, was questioned but released.
A UK Border Agency spokesman said the couple "didn't appear to speak the same language and needed translators".
The man is being detained until his deportation.
The spokesman added: "Just before the ceremony officers intervened and the 40-year-old was arrested for being in the country illegally having overstayed his visa."
He said the superintendent registrar knew about the Border Agency's operation.
A Slough Borough Council spokesman said: "We take attempts to take part in sham marriages very seriously and work with the UK Border Agency to identify suspected sham weddings and ensure those concerned are dealt with appropriately."