Anderson brothers sentenced for murder of Darren Lock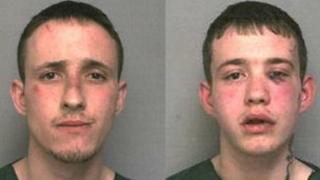 Two brothers will serve life sentences for the murder of a Berkshire man stabbed to death in his home.
Darren Lock, 38, from Newbury, bled to death after an attack on 16 March.
Joshua Anderson, 22, of Bracknell, and Matthew Anderson, 20, from Aldermaston, were convicted of murder after a trial at Reading Crown Court.
On Monday, the pair were sentenced to a minimum of 23 and 22 years respectively. Dean Robinson, 32, from Thatcham, was cleared of murder.
Joshua Anderson was also found guilty by the jury of attempting to murder another man, aged 33, who was at the flat in Northway on the night of the murder.
Judge John Redihough sentenced him to 23 years imprisonment to run concurrently.
Matthew Anderson was found guilty of wounding the second victim, but cleared of his attempted murder.
He will serve 22 years imprisonment for the offence, which will also run concurrently.
Stabbed in eye
In a statement the Lock family said justice had been done.
It added: "The trial has only added to our trauma - listening everyday to everything that happened that night.
"There are no words to express our feelings for the two defendants convicted today.
"Not only did they take Darren's life they changed ours completely."
During the five-week trial, the jury heard how Darren Lock met the Anderson brothers for the first time early on the evening of 16 March at his flat.
Shortly afterwards, he was fatally stabbed a number of times in his leg. Their second victim was stabbed multiple times in the stomach and eye.
He was able to get away from the scene to call for assistance and survived the attack.
Mr Robinson, who was also present at the flat during the murder and introduced the Andersons to their victims, was found not guilty of the murder of Mr Lock and not guilty of the attempted murder or wounding of the second victim.
Violent spree
Having murdered Mr Lock, the Anderson brothers went on a violent spree assaulting two other men in Newbury before police arrested them in the early hours of the following morning.
Both Andersons were also found guilty of causing actual bodily harm to a third victim, a passer-by on the evening of the murder. Joshua was sentenced to nine months and Matthew a year, to run concurrently.
At a previous hearing, Joshua Anderson pleaded guilty to common assault to a fourth victim for which he will serve a one-month concurrent sentence.
Matthew Anderson was found not guilty of causing actual bodily harm to the same man.