Berkshire charity Wings of Freedom needs new premises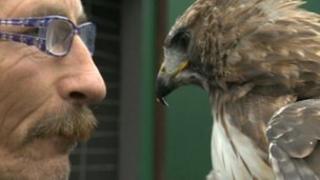 A Berkshire charity which uses rescued birds of prey in therapy work with people who have special needs says it needs £500,000 for new premises.
Wings of Freedom in Weston, near Newbury, rehabilitates birds which have been shot, poisoned or injured and takes them into schools and care homes.
The charity, set up more than 25 years ago, must move from its current base by the end of the year.
Founder Colin Sutherland said it was one of a kind.
He said: "It combines bird of prey rescue with therapy for people with special needs and Alzheimer's.
"Birds of prey are unique and people like flying them and exercising them so we thought we'd use the captive bred ones for therapy."
Mr Sutherland described the therapy as "a bonding process [teaching] a set of principles and disciplines".
Wings of Freedom started as a voluntary group, but became a registered charity in February 2011.
The goal is to now build a specific centre with better access for people with disabilities on new land.