Jubilee funding for arson hit Bradfield Cricket Club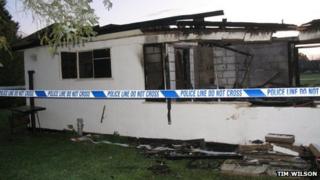 A Reading cricket club which had its pavilion destroyed by fire last year has received £3,000 of funding towards repair work and its playing fields.
Bradfield Cricket Club in Southend was attacked by arsonists in November 2011, which caused damage estimated at £210,000.
The funding was awarded as part of a Queen's Diamond Jubilee legacy project.
The Queen Elizabeth II Fields Challenge aims to protect outdoor recreational spaces.
The new pavilion, which has recently received planning permission from West Berkshire Council, will also provide facilities for disabled cricket.
Friends of the club, Sport England, Greenham Common Trust and Englefield Common Trust have also provided funding of more than £100,000 towards the new pavilion.