Murals discovered under paint at Wokingham school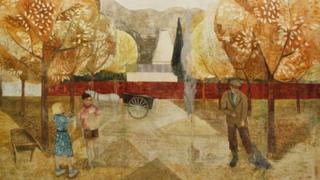 A pair of murals painted nearly 60 years ago have been discovered underneath layers of paint at a secondary school in Berkshire.
Depicting the seasons of the year, they were painted at St Crispin's School, Wokingham, by artist Fred Millett.
The three murals have been unseen after being covered over with layers of gloss paint in the 1970s.
A painstaking 18-month restoration has uncovered summer and autumn, but winter has been permanently lost.
Because of the type of paint used to cover winter, professionals said it could not be revealed without destroying the artwork beneath, so instead the school plans to paint it again.
Fred Millett, who designed posters for London Transport, was commissioned to paint the scenes in 1953 at the rural school where students were taught agricultural skills.
Robin Cops from the school believes the decision to paint them over was taken by a former headmaster.
He said: "I think the head at that time thought a new future was coming to the school and he painted all the decorations out."
The restoration project was funded by donations from the Wokingham Society and a former student.