Broadmoor Hospital bats rehoused ahead of £285m revamp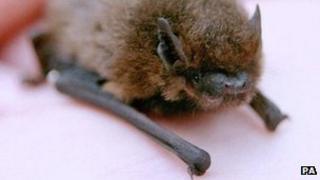 Bats are being rehoused in Berkshire to make way for a £285m revamp of Broadmoor Hospital.
An unknown number of brown long-eared and common pipistrelle bats are living in disused buildings on the site.
Two hibernation boxes and 17 summer bat nest boxes have been placed in nearby trees to encourage the bats to move out "temporarily".
Some of the site's 150-year-old buildings will be demolished next year when the redevelopment work starts.
West London Mental Health NHS Trust said none of the current bat roosts would be disturbed or destroyed during the hibernation period, which runs from November until March.
Victorian buildings
Once the revamp is completed hibernating boxes for the bats will be placed in attic areas of the new buildings by ecological consultants, Ecology Planning and Research Ltd.
The proposals for the Victorian buildings on the 130 acre (52.6 hectare) estate were approved in July.
The new 16 ward, 234-bed unit will be constructed within the hospital's existing grounds and will open to patients at the beginning of 2017, the trust said.
A new therapy building will also be created, which will house shops for patients, education and vocational services and visiting suites.
Broadmoor opened in 1863 as England's first asylum for the criminally insane.
Some of the country's most notorious killers and sex offenders have been treated within the hospital.