WWII memorial for 1943 Newbury bomb attack victims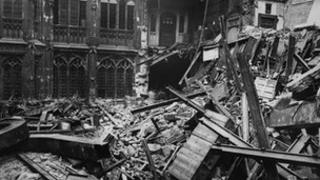 A memorial will be created to remember the people who lost their lives when a Berkshire town was bombed during World War II.
Newbury was attacked on 10 February 1943 from German bombers, which killed 15 people and injured 41 people.
The bombs destroyed a school, church and houses.
A plaque and information board will be unveiled in the small garden opposite St John's church on the 70th anniversary of the raid next February.
The church was totally destroyed by the bombs, leaving only the altar standing, but was rebuilt after the war.
The Senior Council School, St Bartholomew's Almshouses and Southampton Terrace were also destroyed and another 265 dwellings were damaged. Many were later demolished.
Pupils killed
Newbury Town Council is working with local historian David Clow to create the memorial and tell the story of the town during the war.
Mr Clow, of West Berkshire Heritage Forum, said: "Newbury was hit by quite a few bombs but they were randomly dropped and none of the bombs did a lot of damage.
"But this is the only bomb that hit and damaged buildings and a school and did a lot of damage.
"It's remembered by lots of people, many of whom were children at the school at the time.
"They had only left school about 20 minutes before and some have told me how they remember seeing the planes flying in above as they were walking home, and then the bombs being dropped."
He said among the 15 people who died were 3 pupils and two of their teachers who had stayed behind to finish off some work.
Of the 41 people who were injured, 25 were seriously hurt.
Describing the plans, Mr Clow said: "It is a memorial, and it is the 70th anniversary, but a large part of the motivation for this it that we want to have a panel to explain what happened here.
"When you go into Newbury, it says: 'Welcome to historic Newbury'. But you think what history because there is nothing to tell you about it."
Mr Clow said he would like to speak to anyone who has a personal connection with the bombings, or remembers them, to hear their stories and invite them to the ceremony next year.