Ufton Nervet death crash rail crossing bridge plan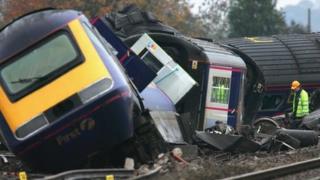 Network Rail in Berkshire is planning to erect a bridge in place of a rail crossing where eight people have died.
Residents have long called for action to be taken to improve the crossing at Ufton Nervet.
In 2004 a train derailed killing seven, and in May this year a man on a moped died on the level crossing.
Network Rail said a bridge was the preferred option but it would depend on planning and highways consent as it did not own the land.
But it said it was proceeding with the bridge plan in the meantime, looking at land purchase, designs and funding.
Jane Hawker from Newbury, who was in the 2004 crash, said: "I would be very pleased to think that a bridge would be built."
To replace the crossing, between Aldermaston and Theale, the company said it would also need to secure additional funding.
Memorial garden
Patrick Hallgate, Network Rail route managing director, said: "We have a once-in-a generation opportunity to make changes at Ufton Nervet as part of our plans to re-signal and electrify the line.
"It is our view that we have a strong case to close the crossing and replace it with a road bridge.
"Every crossing that we close removes the risk of a person or vehicle being struck by a train and improves safety for everyone on the railway and for those who travel across it."
Hugh Jaegar, of the campaign group Railfuture, who has previously said Network Rail was was not acting fast enough to improve safety at the site, welcomed the decision.
He said: "This will prevent any more tragedies at Ufton Nervet like those of 2004 and 2012."
A bridge would cost more to build but much less to operate and had advantages for both rail and road users, Mr Jaeger added.
"Network Rail would be able to upgrade the Newbury line for trains to run faster, and as passenger and freight demand increases the line can carry more trains without affecting road traffic."
He said he hoped the memorial garden beside the crossing, which commemorates the victims of the 2004 crash, would still have a place within the design for the new bridge.