Royal Berkshire Fire and Rescue Service team's rescue challenge win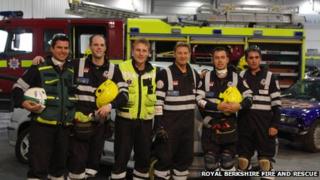 A team of Berkshire firefighters has successfully defended the world championship title for rescuing people trapped in vehicles.
The Royal Berkshire Fire and Rescue Service Extrication team competed against firefighters from across the world at the World Rescue Challenge.
The teams took part in a series of timed, simulated road traffic collision scenarios at London's ExCel Centre.
The Berkshire team won the challenge title last year and in 2009.
As well as coming first overall, the service was awarded best medic and best incident commander.
Olaf Baars, deputy chief fire officer, said: "Although winning competitions such as this is undoubtedly a real accolade, there is also a serious and very practical reason for taking part.
"All of the advanced specialist skills and experience the team learns and develops through competing are then built into the training and techniques that our firefighters put into practice at real-life incidents."