Newbury flood defence work to begin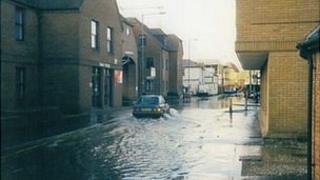 Work is to begin on a £2m flood defence scheme in a Berkshire town, as part of an Environment Agency (EA) campaign to prepare the South East for flooding.
Newbury is at risk of flooding due to the raised position of the Kennet and Avon Canal and experienced major floods in 1947 and 1960.
Smaller scale floods affected the town more recently, in 2000, 2003 and 2007.
The work will protect more than 380 homes and about 70 businesses, as well as the A339 and A4 London Road.
Work includes raising the towpath on Russell Road to protect adjacent housing and creating a new earth embankment at Northcroft Park to protect the nearby housing estate, and the town centre.
The EA expects to complete the work, which starts later this week, over the winter.
The government has offered £1.2m towards the project, which has also received funding from Greenham Common Trust, Sovereign Housing, West Berkshire Council and Newbury Town Council.
The EA said the scheme would not address the surface and groundwater flooding which were experienced in Newbury in 2007, but said they would be investigated separately.