Berkshire woman gets help for home hit by floods 10 times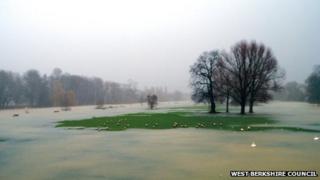 A woman whose house has been flooded 10 times in the past 23 years has become one of six homeowners to be given new flood defences.
Heather Hutchins, from Midgham village in West Berkshire, "lost everything" in the floods of summer 2007.
The six houses on Brimpton Road where she lives are regularly flooded by the nearby Kennet and Avon Canal.
Now she is hoping £30,000 of flood defences from a government grant will stop any more flooding.
"The floods in 2007 were the worst - we lost everything and we had to move out," said Mrs Hutchins.
Insurance 'sky high'
"Everything was ruined on the ground floor and then while we were out of the house we got burgled so everything was gone.
"The worst thing was that our children's baby photographs were ruined. We could replace furniture and carpets but we can't replace those."
Mrs Hutchins said the full cost of the damage to her home contents is about £50,000 and her insurance is now "sky high".
Over the years she and her husband and neighbours have tried various methods to keep the water out.
She said: "Basically we're all out there all hours of the day trying to keep the water away.
"The first flood was in 1987 and the whole row of houses got together to dig out a trench outside our houses.
"Now the farmer dredges a ditch about 300 to 400 yards long."
Sandbags
A grant from Defra (Department for Environment, Food and Rural Affairs) awarded to West Berkshire Council by the Environment Agency means that flood defences have been installed.
New measures include flood-resistant doors, removable barriers for doors, and "air bricks" to allow ventilation and non-return valves on domestic and foul drains.
Mrs Hutchins says she hopes the new defences will work and they will no longer have to rely on sandbags.
Keith Chopping, West Berkshire Council's executive member for highways, said: "We are delighted to have helped these residents and hope it will encourage other homeowners in flood risk areas to install similar flood protection measures themselves."