King's Meadow Campaign wants Reading council support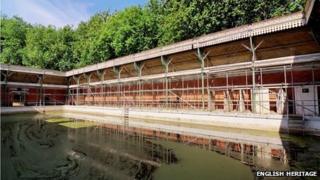 Campaigners trying to reopen an Edwardian swimming pool in Berkshire say they want more support from the council.
Reading Borough Council will meet to discuss the future of King's Meadow Pool on Monday.
In 2009 it gave the Kings Meadow Campaign (KMC) time to raise an estimated £1.5m needed to renovate it.
Although KMC managed to get the building listed, it currently only has about £10,000 in the bank.
The group hopes to get more support from council officials to enable it to secure grants to save the building.
Bob O'Neill, from the KMC, said: "If the council wants to make it happen they can make it happen."
But the council leader Jo Lovelock said officers had already spent a considerable amount of time and effort helping the campaign.
'Community asset'
She agreed the listed building had to be preserved but worried that unless decisive action was taken the project could be left to drift on.
"Kings Meadow Campaign has been working very hard but they haven't secured the kind of funding that means it's viable," she added.
"Council budgets are not in a state, with the forthcoming cuts, that we can put any money towards it.
"We simply don't have the funds to contribute to it so any funds have got to come externally."
She said that could mean the pavilion was converted into a cafe.
But Mr O'Neill said whatever decision was taken, the use of the pool must be preserved.
A meeting of Cabinet will be held on Monday 5 November to discuss the pool's future.