Slough Town stadium plan to bring football club back to town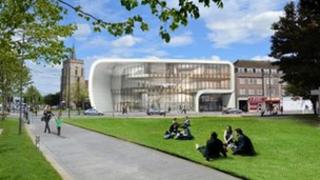 Plans to build a new stadium to bring Slough's football club back into the town have been put forward by the borough council.
Last month the council announced a £1bn deal to build a new library, schools, leisure facilities and homes in Slough.
It has now decided to include the Arbour Park development in the scheme.
The site of the old Arbour Vale School will be transformed into a new stadium for non-league Slough Town with extra sports facilities.
The Southern League club is currently based near Beaconsfield in Buckinghamshire, where it has played since 2007.
Councillor James Swindlehurst, commissioner for neighbourhoods and renewal, said: "We promised we would do everything we can to bring Slough Town Football Club back to the borough and that is still our aim.
"We believe Slough's football club should be in Slough."
As well as the stadium, which is intended to be run and used by the club, there are also plans to build two extra football pitches, a multi-use games area, a club house and accommodation block, an athletics track, facilities for a dance academy and 89 new homes.
There are still a number of hurdles including planning permission and approval from the Secretary of State for Education for the removal of the old school playing fields but council officers say they are confident it will be a success.