Reading pupils in walk to school race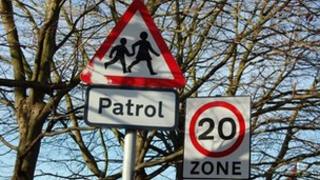 Pupils in Berkshire are taking part in an international competition to clock up the longest distance walked to and from school.
The Beat the Street campaign has fitted magnetic Oyster card style readers to lampposts in Reading where students can score points by swiping a fob or card.
Each pupil can earn up to 12 points a day and can check their status on an online scoreboard.
Schools in Vancouver in Canada and Shanghai in China are also involved.
The four-week long competition has seen about 2,000 students from around the world taking part each day since it launched on 1 October.
The Reading schools taking part are Highdown School, Reading Girls School and Blessed Hugh Faringdon School.
Olympic legacy
William Bird, a Reading GP and CEO of Intelligent Health, said: "We know walking is a key to health, but it's hard to make it exciting.
"So we thought we'd try by introducing three things; a leaderboard, the technology side and making it international.
"We want children to feel part of it.
"They have been pushed off the roads by cars, but if we help them back to walking we take more cars off the roads."
The competition works in a similar way to a board game - the further the pupils walks the more swipe boxes they will pass where they can pick up points.
They can choose as long or as short a walk as they like and can pick up anything from 1 to 12 points per day, with the winning school receiving money towards a chosen charity.
Funding for the project comes from the London 2012 Olympic legacy program and coincides with International Walk to School Month.
The readers are only activated between 07:30 and 09:00 and 15:00 and 16:00 to make sure only school trips are logged.
Dr Bird said he hoped to enrol more schools next year, including ones in Russia and Rio de Janeiro where the Olympic Games will be held in 2014 and 2016.