Drivers move road closure signs at dangerous ford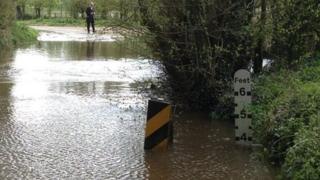 Motorists have removed safety barriers to cross a closed ford where a man died six months ago.
Thornford Road, Headley, Berkshire has been closed since April after Jonathan Gammon died when his car was submerged in 1.5m (5ft) of water in the ford.
Drivers crossing the ford on the Hampshire/Berkshire border were "potentially putting themselves at risk", Hampshire County Council said.
The council plans to install larger barriers to stop them being moved.
'Big red signs'
In a statement, the authority said: "Although the local highways team inspect the barriers at the ford regularly they cannot monitor them 24 hours a day.
"We recognise that the closure will cause some people inconvenience by having to drive around the traffic diversion routes, but it is important to maintain the safety of the travelling public."
The fast flowing ford was flooded when Mr Gammon, 52, from Teddington, who was a passenger in a car, was swept downstream.
He died at the scene. His wife, 55, who was driving the car managed to swim free.
Simon Hiscock, who owns a smallholding nearby, has had to rescue dozens of motorists from the ford.
He said: "There are big red signs saying road closed and there are barriers, but people are driving through it.
"People are leaving the plastic barriers flat in the road and driving across them."
'Turn around'
Mr Hiscock said the water level was showing 2ft 6in (75cm) on Tuesday, which "is a foot higher than normal", he said.
Paul Coates, of Hampshire Fire and Rescue, said: "These fords we class as very dangerous because of the force of the water - 150mm (6in) of water can lift a car.
"Even if you get your car through the water can damage your engine, you're potentially going to get a big bill and the insurance company won't pay it. Don't go through it, turn around."
A consultation on the future use of the ford, which is also used for access to fields by local farmers, is being carried out by the council.