Queen unveils Jubilee spheres installation in Windsor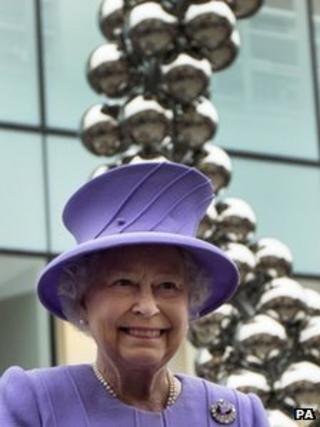 The Queen has unveiled an artwork in Windsor to mark her Diamond Jubilee.
The spiral of 60 spheres, representing 60 years on the throne, has been installed in the open concourse in King Edward Court shopping centre.
It was designed by Caroline Basra, 15, a pupil at Windsor Girls' School, who won a competition to come up with a Jubilee tribute.
The Year 11 pupil said: "I can't believe it. I am so glad that she was able to come and unveil it."
The Queen asked the pupil if she was considering becoming an artist herself and she replied that she had not yet decided, although was currently studying GCSE art.
Caroline said it took her just 10 minutes to design the tribute in the competition held by the Windsor and Eton Society.
Dressed in a heather dress and coat with matching hat and an amethyst shield brooch, the Queen received cheers as she pulled the strings to remove the purple cloth draping the statue.
She listened to the Windsor Girls' School choir and chatted with Caroline and local dignitaries before receiving flower bouquets from well-wishers.
Caroline said: "The statue was influenced by contemporary art, I like contemporary art and contemporary dance.
"I thought that it might be a good idea not to do something that was too obvious."
The piece she designed consists of 59 spheres made from polished stainless steel and one cut glass sphere at the very top.
Mayor of the Royal Borough of Windsor and Maidenhead, Colin Rayner, also greeted the Queen.
He said the statue was an expression of the Royal Borough's special relationship with her.
"I am here to thank you for the wonderful support and encouragement that you have given to the Royal Borough, the United Kingdom and the Commonwealth over these years," he added.
The Berkshire town of Windsor has a strong bond with the Royal Family, which has been known as the House of Windsor since World War I.
Its medieval castle is often said to be the Queen's favourite residence.