Reading university's homes plans approved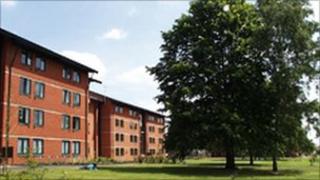 Plans to redevelop a site at the University of Reading for 287 homes and recreational space have been approved by councillors.
The university moved off the Bulmershe Campus this summer.
The plan will see teaching facilities demolished and replaced with homes and a care home, revamped playing fields and a new sports pavilion.
Wokingham Borough Council said it would "regenerate Woodley" and had been reccomended to approve the plan.
Six of the current halls buildings will be retained and converted into flats, and a convenience store built.
Ancient heathland concern
A report to councillors, who approved the plan on Wednesday, said it was a "considerable investment in local sports", and would improve the wildlife and recreational amenity of the site.
Those opposing the plan said it would damage an important area of ancient heathland and increase traffic.
Beth Rowland, leader of Woodley Town Council, said she disagreed with a traffic report which claimed car usage would reduce.
"Our main concern is for 25 years residents have worked to protect that site," she added.
"It's a site of urban landscape value.
"It has High Wood and the only ancient heathland locally.
"If they were proposing to build houses on the brownfield site, which is where their buildings are now, we wouldn't have a problem with that."
'Much-needed housing'
The university said work would be carried out to enhance an existing local wildlife site.
David Bell, vice-chancellor of the University of Reading, said: "This decision paves the way for the previously developed area to be regenerated with much needed new housing, while securing and improving the playing fields for university and community sports use."
A council spokesman said formal planning permission would be granted once a section 106 agreement had been signed by the council and university.
It would require the university to contribute funds towards footpaths, cycleways and public transport routes, local schools, leisure centres and parks, libraries and wildlife areas.