Cafe in Crowthorne faces 1,000% rent increase crisis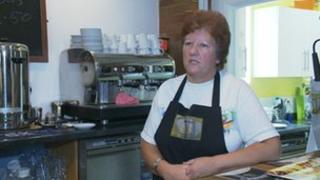 A Berkshire cafe and bar is facing closure after the local council told its owners they were increasing the annual rent by 1,000%
Pauline and Andy Jordan spent £75,000 of their life-savings turning a derelict building in Crowthorne village into Pinewood Bar and Cafe.
The couple say a £20,000 rent rise from Wokingham Without Parish Council threatens all they have worked for.
The council turned down the opportunity to comment.
Mrs Jordan said the rent on the property in south east Berkshire was £2,000 a year for the first two years, and they were told it could go up by £6,000.
However they have been told they must now pay £22,000 a year, she said.
"It would leave us at a loss and in a deficit and we wouldn't be able to manage and we would have to close the business," she said.
"We just couldn't afford it at all - the business doesn't generate that much revenue to pay a rent of £22,000 a year."