Windsor and Maidenhead town crier to return 90 years on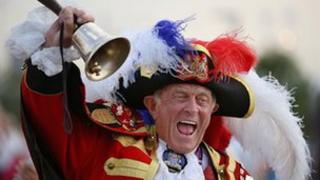 A Berkshire borough is advertising for its first town crier in 90 years.
The Royal Borough of Windsor and Maidenhead is inviting applications for the voluntary role after voting in July to reinstate it.
The job description says applicants must be "sociable people with a fine, loud voice and a great sense of humour".
Candidates will also have to perform a "test cry" outside the Guildhall Corn Exchange in Windsor's High Street.
One of the duties required of the new crier is "to regularly perambulate the towns to welcome residents and visitors alike, spreading warmth and joy amongst all people".
Borough councillor Alan Mellins, who tabled the motion to reinstate the role, said: "We are all justifiably proud of our heritage and royal connections and I felt strongly that the role of town crier would be a fitting addition to many of our events in towns and villages across the borough.
"It is a long-established role which emphasises the importance of history and tradition which we hold so dear - and will undoubtedly be very popular with residents and tourists alike."
The closing date for applications is 15 October.