Ufton Nervet crossing petition calls for safety measures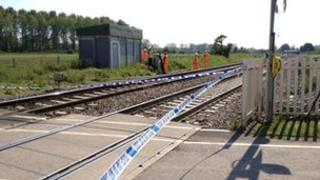 Residents and rail passengers have called for extra safety measures at a rail crossing in Berkshire where seven people died in a crash.
A councillor has collected 340 names on a petition demanding action be taken to improve the crossing at Ufton Nervet.
In 2004 a train derailed there, killing seven, and in May a man on a moped died on the level crossing.
Network Rail said it would decide whether to install a full-barrier or a bridge by the end of October.
The route managing director for Network Rail, Patrick Hallgate, said the preferred option was a bridge, but the company could not guarantee this as it did not own the land either side of the crossing.
Hugh Jaegar, of the campaign group Railfuture, said Ufton Nervet was not one of the most dangerous of the country's 7,000 level crossings, but that Network Rail was not acting fast enough to improve its safety.
Councillor Geoff Mayes, of West Berkshire Council, said he would call on the council's chief executive to discuss it with Network Rail.
A Network Rail spokesperson said: "We are due to renew the crossing and are currently looking at all options including replacing the half-barrier crossing with a full-barrier crossing or installing a bridge.
"We are examining the feasibility of doing this and would be happy to work with West Berkshire Council."