Calls for excavation of Henry I's remains in Reading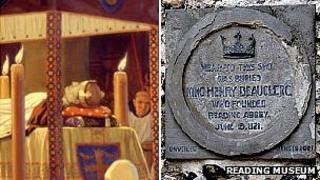 An attempt should be made to find and unearth the remains of King Henry I, an MP has said.
Reading East MP Rob Wilson says locating the king's exact burial place at Reading Abbey could boost tourism.
It follows the possible discovery of the remains of King Richard III in a Leicester car park.
Historian Jane Walton said while Henry's tomb was thought to have been at the high altar, it had probably been stolen and his remains lost.
Henry I, son of William the Conqueror, founded Reading Abbey in 1121.
After his death in Normandy in December 1135, his body was brought to Reading sewn into a bull's hide. He was laid to rest in January 1136.
The abbey was partly destroyed during the dissolution of the monasteries by Henry VIII but there is no firm record of what happened to Henry I's remains.
Ms Walton suggested the king's silver coffin may have been stolen and his remains "scattered to the four winds".
A small plaque marks the rough area of his grave but rumours place the exact spot under nearby St. James' School.
Conservative Mr Wilson said finding the remains of the king or the exact location of the burial place, could prove a catalyst to enticing tourists to the town's Abbey Quarter.
Using the hashtag, #KingHenryofReading, he tweeted "If they can find Richard 3rd in Leicester, we can find Henry 1st in Reading! He's buried in Reading Abbey somewhere, let's find him."
He admitted that if the grave is under a school it would "be a bit of a problem".
"It would be good to remind people there is so much more to Reading than they think - we've got a very rich history and an economic importance that goes all the way back to Henry I's time," he said.
'Hidden gem'
Plans to transform Reading's historic Abbey Quarter were turned down for lottery funding earlier this year.
The borough council had put in a bid to secure £6.7m from the Heritage Lottery Fund (HLF) to conserve and promote the area.
An application for £5m is to be made within the next month.
Matthew Williams, manager of Reading Museum, said the abbey is a "hidden gem" in the town.
"There are very few towns who had claim to have a king of England buried in them," he said.
However, he said he "doubted" whether the remains of Henry I could be found.
"The remains are somewhere. You never know - he might turn up sometime in the future," he added.