Reading black community club to have fundraising deadline extended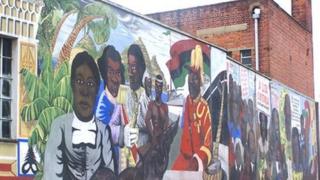 Reading's African and Caribbean community has been given extra time to raise up to £300,000 needed to restore its old club building.
The Central Club with its distinctive mural of black people in history was closed in 2006 following a drugs bust.
The town's African Caribbean Community Association (ACCG) wants to distance itself from the club's former reputation and refurbish the building.
Councillors are set to extend the building's lease until the end of 2013.
ACCG chairman Errol Masters said: "We are absolutely delighted. In this current climate raising funds is difficult.
"We don't have a resource centre and we have been a long and established community in Reading."
Reading Borough Council pledged £220,000 towards the estimated £620,000 refurbishment of the building in London Street.
ACCG has so far raised £100,000 of the remaining £400,000 needed.
Plans include community events such as theatre classes and youth groups.
Community engagement councillor Jan Gavin said the extension would give ACCG an opportunity to continue fundraising.