WWII memorial unveiled at Greenham Common airbase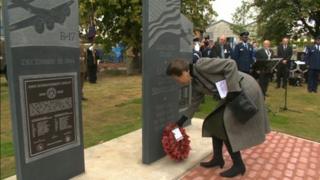 A new memorial commemorating American troops who died while based in Berkshire during World War II has been unveiled by the Princess Royal.
Princess Anne officially dedicated the three new memorial stones at Greenham Business Park.
Greenham Common was a major US airforce base, where thousands of US troops were stationed in the run-up to D-Day.
Military operations ceased at the site in 1992 and it is now a nature reserve and business park.
There was already a memorial at the site to the 33 victims of a glider crash at Greenham on 12 December 1944.
Three days later 16 men died when two B17 Flying Fortress planes collided near the base. The new memorial honours all who died while based there.
Patrick Mockus, son of 2nd Lt John Mockus, a co-pilot of one of the B-17 planes, was travelling to be at the ceremony.
'Strong bond'
He said: "I have made two previous trips to my father's grave at the Cambridge American Cemetery and visited the former bases at Thurleigh and Greenham Common, as well as the area of the crash site.
"I have had the pleasure of meeting dozens of English men and women who have expressed their gratitude for the service and sacrifice of Americans, like my father, during World War II.
"That they remember and appreciate this fills me with a sense of pride and I feel a strong bond with this country and its people.
"That 68 years later you would be dedicating a memorial to the service of these men attests to this bond.
"This memorial will serve as a physical example of that bond for years to come. For that I am thankful and forever grateful."
His sister, Mary Mockus-Shipler, said: "For the sacrifice of these airmen to be remembered and honoured in this way by the British people has seemed miraculous to me and all the family members of these men who died fighting for our freedom so far from home."
The Greenham Common Trust contributed funds and provided land on the park for the memorial, erected by the Newbury branch of the Royal British Legion.
It was carved in Welsh slate by stonemason Joss Nankoo, from StoneArt Memorials in Newbury.
Greenham Common also housed nuclear weapons, which famously sparked protests in the 1980s.