Robert Sebbage trial: Mother says it was 'emotionally draining'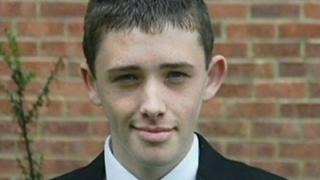 The mother of Robert Sebbage has described the "emotionally draining" experience of coming face-to-face in court with the man accused of her son's murder.
The 18-year-old from Tadley, Hampshire, was killed and four of his friends were injured during a night out on the Greek island of Zante last July.
It was alleged they were attacked after a row broke out between them and a group of taxi drivers.
It was the first time Mr Sebbage had been on holiday without his parents.
Rhian Sebbage and her family were part of a group of 23 who travelled to Patras on the Greek mainland to follow the trial, raising £27,000 through charity events to fund the trip.
Six of Mr Sebbage's friends, who were on holiday with him when he died, had to attend as witnesses.
Taxi driver Stelios Morfis, 22, was cleared of murder on Wednesday but convicted of causing deadly bodily injury without intent and sentenced to 11 years.
'Piccadilly Circus'
Mrs Sebbage said the family could never be fully prepared for attending the trial in Greece, despite hiring a Greek solicitor to fly to England and brief them beforehand.
"It's quite frustrating," she said. "The main problem is the language.
"We do have an interpreter with us, but there are times when it's extremely loud.
"The Greeks are quite passionate in the way they speak to each other."
She described the Greek open courts, allowing the general public to roam in and out, like "Piccadilly Circus".
"It's thoroughly emotionally draining" she said of seeing Morfis in court.
"The first day was probably the worst because of not knowing what was going to happen.
"We thought we were ready for it, we were nowhere near ready for it.
"The defendant is brought in accompanied by three policemen.
"He is handcuffed, sits down, the handcuffs are then removed and his family are allowed to attend to him, go up to him and speak to him and kiss him and all the rest of it.
"That goes on in front of you and that is really hard to take on board."
Angeliki Petta, an English-speaking Greek lawyer representing the Sebbage family, said they showed "courage" in court.
Tadley MP Sir George Young said he hoped the family would be "comforted by the tremendous support they've had from Tadley, friends and family".
England mascot
Mr Sebbage was a dedicated football fan.
He was the mascot for an England friendly with Brazil in 2007, walking out on to the Wembley pitch alongside David Beckham.
It was England's first match at the rebuilt stadium and Mr Sebbage was battling a rare bowel condition at the time.
He was also a Reading season ticket holder.
Reading FC's chairman Sir John Madejski wrote to Mr Sebbage's family on behalf of the club to express his sincere condolences.
Reading FC's manager Brian McDermott wrote in the programme notes for Reading FC against Milwall in August 2011: "I know that today the East Stand will be missing one of its own in Robert Sebbage, our young season ticket holder who passed away over the summer."
Mr Sebbage studied A-Levels in English language, media studies and sociology at Queen Mary's College in Basingstoke.
He also worked part time in the Calleva Arms in Winchester.
A charity called Out Of The Blue was set up in Mr Sebbage's memory.