Slough housing shortage 'worst since the 1980s'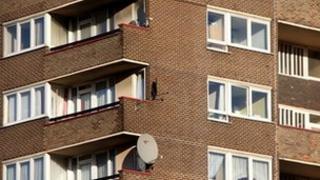 The housing shortage in Slough is at its worst since the 1980s, according to homeless charity Shelter.
The charity said it was largely due to London councils moving people on their waiting lists to the nearby Berkshire town because rents are cheaper there.
Slough deputy leader James Swindlehurst said it has started putting families in B&Bs for the first time in 13 years because of a lack of private housing.
He added the council was currently dealing with 7,000 housing enquiries.
'Market is saturated'
Shelter's Slough service manager James Merritt said the situation in Slough was a "crisis" because an influx of people from London into private rented accommodation in the town was "eating up what is available".
He added: "What is happening in London now is, because of their shortages and their crises, they are giving people money to move out of the area to pay a private landlord a deposit in another area."
Mr Swindlehurst said the private rented market is getting "saturated" in Slough as a result.
He added he did not blame west London councils for seeking cheaper rental accommodation but that Slough people were "getting priced out" because London rates of housing benefits are higher, which is more attractive to the private landlord.
Mr Merritt said the government's cap on housing benefits as part of its welfare reforms also deterred private landlords from renting to people on benefits.
He added the only solution was to increase the supply of social housing but that Slough had a "problem" because of a lack of land available.
Hounslow Borough Council confirmed it had "approximately 20 families in temporary emergency accommodation in Slough".
A spokesman said: "We always look to place families needing emergency temporary accommodation as close as possible to their local area. However, it is not always possible to find this within the borough, so if the closest available is in a neighbouring borough such as Slough, we will use this."