Specialist Gurkha veteran centre opens in Reading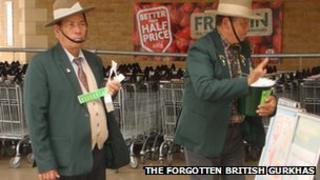 A specialist help centre for Gurkha veterans and their families has opened in Reading.
The Gurkha Veteran Centre, in Queens' Walk, is supported by the charity The Forgotten British Gurkhas and will be staffed by seven volunteer veterans.
The centre aims to provide help and advice in a range of areas, including housing, benefits and form-filling.
The centre, which includes a "meeting lounge", was formally opened by Mayor of Reading Jenny Rynn.
'Absolutely vital'
Maj Peter Beckinsale, 73, from Tilehurst, founded The Forgotten British Gurkhas charity in 2007 and set up the centre, which will also run English classes.
He said he was "very proud" to have worked as an engineer with the Gurkhas in Malaya from 1959 to 1963.
"The Gurkhas have been part of the British Army for almost 200 years and have played an absolutely vital role," he said.
"These men are not strangers to our country - they are a very special case and we owe them a great debt."
Councillor Rynn said the centre would help the Gurkhas to "integrate with the people of Reading".
A shop unit at Broad Street Mall, owned and supplied for free by Ivypark Ltd, will house the centre.
About 1,000 veterans and their family members currently live in Reading and have been based there since 2007, according to the Forgotten British Gurkhas organisation.
There are 10,000 Gurkha veterans living in the UK, many of them in Berkshire and Hampshire.
In 2009 the government allowed Gurkha soldiers who had retired before 1997 to settle in the UK following a high-profile campaign led by actress Joanna Lumley.