Claire Teague: 'Missed opportunities' in home birth death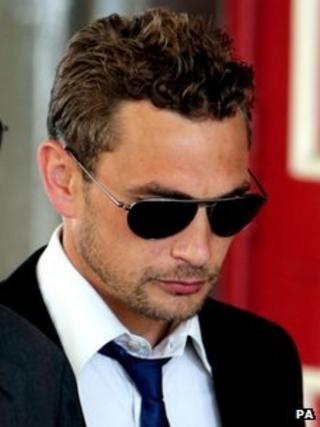 A coroner has ruled that there were "missed opportunities" to save a mother who bled to death when her placenta was "ripped out" during a home birth.
Claire Teague, 29, from Berkshire, hired midwife Rosie Kacary during her second pregnancy and gave birth to a baby boy on 1 August 2010.
But soon afterwards she began to feel unwell, complained of being in pain and started bleeding heavily.
She died from bleeding caused by 30% of her placenta being left inside her.
Mrs Teague, of Woodley, near Reading, was anxious about hospitals and chose a home birth on the advice of Ms Kacary, despite having lost one of her twins during an emergency Caesarean in 2009, the inquest was told.
Berkshire Coroner Peter Bedford, at Windsor Coroner's Court, recorded a narrative verdict.
He said it was "difficult to avoid" evidence given by expert midwives that it would have been obvious the placenta was not whole.
The decision to deliver the placenta in a darkened room with the curtains closed was likely to be behind the fatal error, he added.
Asked for ambulance
He said: "The inspection of the placenta was conducted in poor quality and the manner of the inspection was such that she did not appreciate that approximately a third had been retained."
Mr Bedford also said there were "missed opportunities" to take Mrs Teague to hospital sooner, both by the failure to spot a serious tear and the failure to realise she was seriously unwell when she asked her husband to call an ambulance.
The inquest earlier heard that Mrs Teague's husband, Simon, sent a text message to Ms Kacary as he became increasingly concerned about his wife which read: "She keeps saying she wants me to call an ambulance. She looks so weak."
Mr Teague told the hearing on Wednesday he anxiously watched as Ms Kacary "ripped out" his wife's placenta in an "aggressive manner" using "a lot of force and tugging" when she found she could not remove it normally.
Midwife investigated
But Ms Kacary denied acting in a violent manner, insisting she had been "gentle and kind" at all times.
Referring to the conflicting evidence Mr Bedford said he believed the truth lay "somewhere in between".
Speaking after the inquest, Mrs Teague's father James Pragnell said he was disappointed the coroner had not gone further.
He said: "Although the coroner fairly summarised the evidence, personally I'm disappointed he couldn't go as far as to say that my daughter's death was contributed to by the actions of the midwife."
Mr Teague was not in court to hear the verdict, having found the inquest distressing.
The case is under investigation by the Nursing and Midwifery Council.
Ms Kacary was previously investigated for another home birth but was allowed to keep practising, the hearing has been told.