Prince Charles' Aston Martin in Windsor Castle car show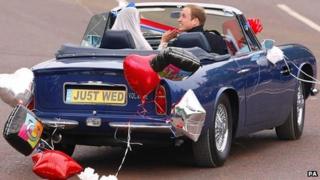 Prince Charles's Aston Martin, which the Duke and Duchess of Cambridge drove in on their wedding day, is going on show at Windsor Castle.
The blue DB6 Mk2 Volante is one of 60 classic cars being shown at an event to mark the Queen's Diamond Jubilee.
Given to the Prince of Wales for his 21st birthday, it has been adapted to run on bioethanol fuels made from waste wine and whey, from cheese-making.
The Aston Martin will be displayed alongside other rare classic cars.
They will be displayed in the castle's quadrangle during the three-day event, which starts on Friday.
Some of the classic race-winning sports cars and supercars from around the world have never been seen before in the UK.
Funds raised through the event will be distributed equally between The Royal Marsden, East Anglia's Children's Hospices, Marie Curie Cancer Care and Cancer Research UK.