Reading councillor calls for 'living walls' in the town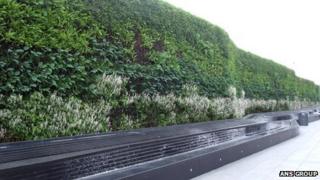 "Living walls" in Reading could cut air pollution by up to 30% and improve public health, a Green Party councillor has said.
Jamie Whitham said the town should follow the example of London by planting walls with vegetation to reduce pollution.
He said "green walls" in the town would also transform urban areas.
A Reading Borough Council spokesman said they were "looking forward" to hearing more about the idea.
A study by scientists from Imperial College London has shown that planting green walls can reduce air pollution by up to 30%.
Regeneration
Plants in towns and cities have been shown to remove nitrogen dioxide (NO2) and particulate matter (PM), both of which are harmful to human health.
Mr Whitham said parts of Reading have high pollution levels which need to be brought down to protect people's health.
He said: "Reading Green Party is supporting the use of green walls to help reduce air pollution.
"This initiative can also form part of the regeneration strategies, changing the way parts of our urban areas look.