Windsor Swan Upping ceremony cancelled due to flooding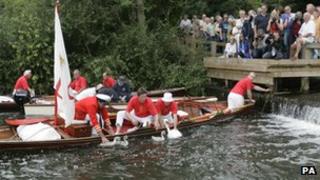 A section of the annual Swan Upping ceremony has been cancelled for the first time in its 900-year history due to flooding, according to the Queen's Swan Marker.
The event is a census of the swan population on the River Thames and dates back to the 12th Century.
It was due to start on Monday between Sunbury-on-Thames in Surrey and Windsor in Berkshire.
The Environment Agency has warned the fast flowing water is dangerous.
David Barber, the Queen's Swan Marker, said: "The flooding of the river between Sunbury and Windsor means that the water is very fast-flowing.
"Boats aren't allowed on it at this time and it simply would not be safe to carry out the census. There's simply nothing we can do about it."
Swans a delicacy
Swan Upping also takes place in Buckinghamshire and Oxfordshire.
The census will continue as planned on Tuesday, from Windsor to Abingdon in Oxfordshire, and will finish on 20 July.
This historic ceremony began when the Crown claimed ownership of all mute swans, which used to be considered a delicacy.
Swan Upping now serves a conservational rather than culinary purpose.
Swan Uppers look after the swans and are usually watermen of the River Thames where they have done their apprenticeship.